Optimize and Automate SAP Translation with LUDECKE Translation Manager
Please note that LUDECKE Translation Manager has been discontinued. All its functionality is now part of i18n Translation Manager for SAP® S/4HANA.
LUDECKE Translation Manager
SAP translation projects can easily get out of hand, in terms of both project size and overall translation effort. LUDECKE Translation Manager helps you reduce translation costs while maintaining high translation quality.
Every SAP translation project requires a few features that you cannot get from the SAP Standard. LUDECKE Translation Manager offers these missing pieces. You can use it to define and analyze your translation scope, get texts from SAP Translation Hub, export texts for translation, or reuse existing translations. This makes it an indispensable tool for SAP translation.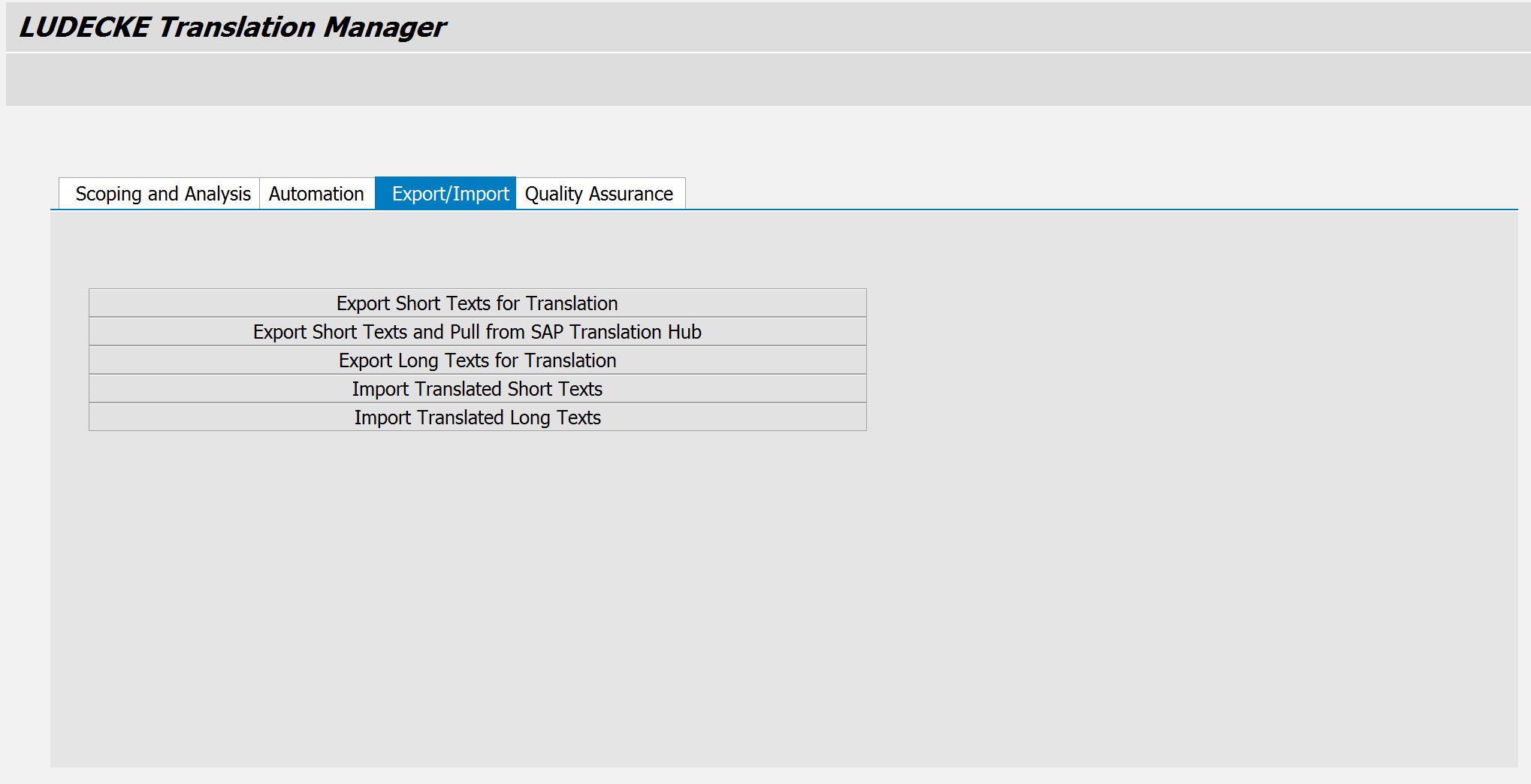 LUDECKE Translation Manager is the Swiss Army knife for your SAP translation project. Its features for automation and quality assurance are best-in-class, and we are always adding new ones. Whether you are translating classic SAP GUI transactions or Fiori apps, this add-on will help you run a better SAP translation project by reducing costs and improving translation quality.
Main Features
Define your translation scope to include only the texts used by a predefined set of transactions
Analyze the texts in your translation project for repetitions and matches from SAP Translation Hub
Reuse texts from SAP Language Packs to translate your custom developments
Get translations from SAP Translation Hub and benefit from 30 years' worth of SAP translations
Export short texts, long texts, and SO10 texts for translation outside of the SAP system
Use the included SAP Cloud Connector for SAP Systems
Export translated texts for review in Microsoft Excel format
Benefit from full integration with the SAP Standard as well as other LUDECKE tools
Contact us to learn more
Read more on our other SAP translation tools...