Our partner text&form has, for a number of years, offered tf-externalize for SAP Translation Hub, an SAP add-on for translating texts in SAP systems. The tool has now been renamed LUDECKE Translation Manager and will now be jointly developed by text&form and LUDECKE. And we have already added the first batch of new features.
A Fresh Coat of Paint
The newly renamed LUDECKE Translation Manager has been nothing if not a workhorse in many SAP translation projects. At its core, it is a collection of ABAP reports that text&form and LUDECKE have both relied on to run SAP translation projects more efficiently, save costs for customers and improve translation quality. It has been continually developed and expanded to address customer requirements.
Now, along with the new name, the tool has also gotten a fresh coat of paint, and the user interface has been reorganized into four main areas: Scoping and Analysis, Automation, Export/Import, and Quality Assurance. For translation consultants and project manager, this makes it easier to find the right tool in this toolbox.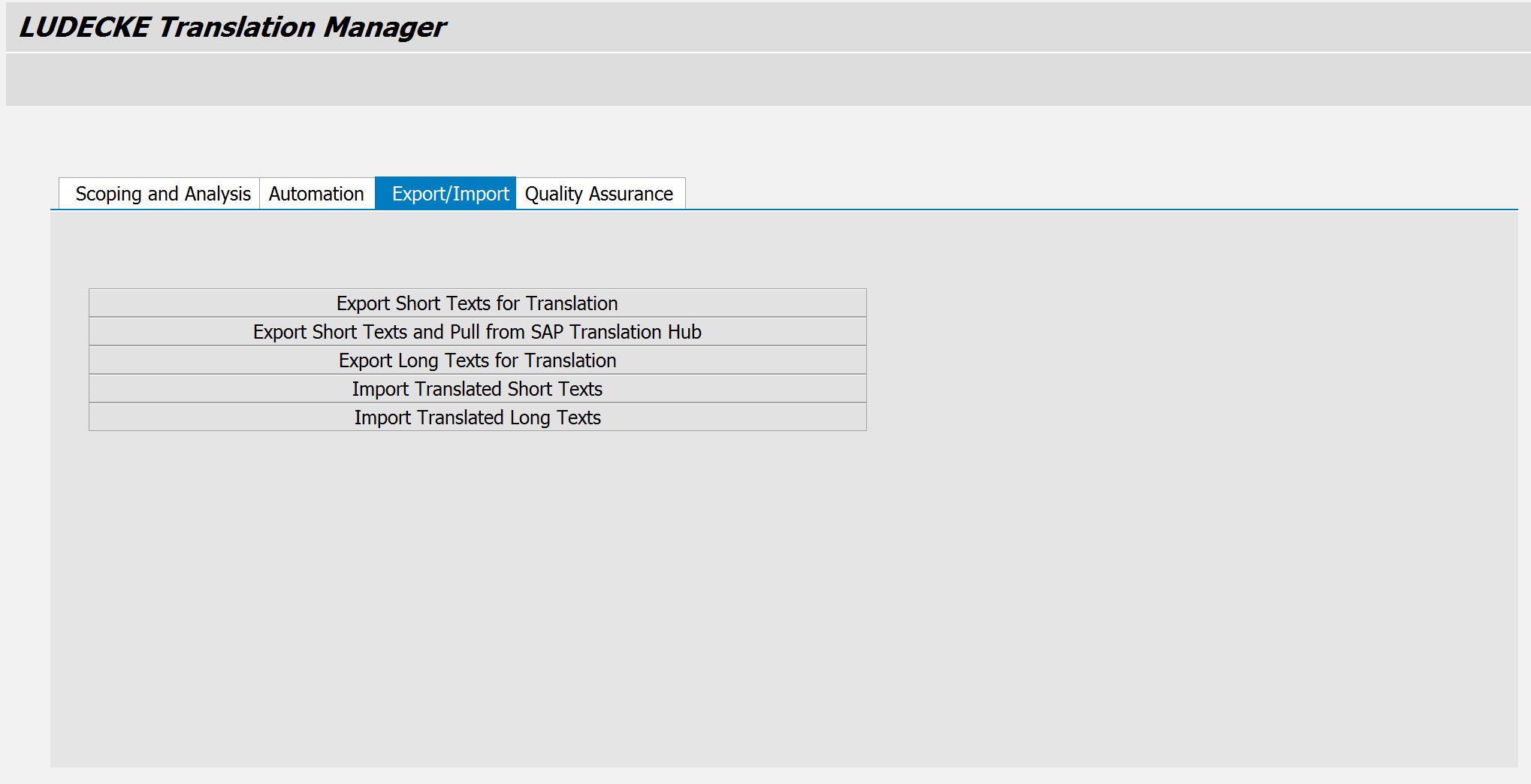 LUDECKE Translation Manager covers four main areas: Scoping and Analysis, Automation, Export/Import, and Quality Assurance.
Integration with SAP Translation Hub
From the start, one of the central features of the add-on has been its integration with SAP Translation Hub. I have blogged once or twice over at our partner text&form's website about how to use it to translate ABAP-based texts. With LUDECKE Translation Manager, you can pull translations from SAP Translation Hub's multilingual text repository directly from your ABAP system.
This is a feature that has allowed many customers to speed up the translation process and save costs. In fact, the idea to integrate the SAP Translation Hub API from the ABAP side instead of using the SAP Cloud Platform has been so popular that SAP provided a similar feature as part of SAP note 2644105 about a year after tf-externalize had pioneered it.
New Features for Scoping and Analysis
One area that is new to LUDECKE Translation Manager are its features for scoping and analysis. You can now use the tool to analyze an entire translation project before you start translating and, for example, find out how many repetitions (identical texts used more than once) occur in the transactions and apps that you want to translate. You can also test how many matches you will get from SAP Translation Hub or be alerted when there are large numbers of texts whose field lengths may be too short to fit the target-language texts.
Customers can also take advantage of a new feature that lets you construct the translation scope in your SAP system based on the objects used by a set of transaction codes. This is especially useful in scenarios where you don't want to translate all your custom objects, but only a predefined set of transactions that you know will be used in the location you are rolling out to. In many cases, this feature will significantly reduce the scope and the cost for translation. I plan to do deep dives on each of these features in future blog posts.
Integration with i18n Translation Manager and Customizing Delta Translation Manager
LUDECKE Translation Manager makes heavy use of SAP Standard functionality and integrates directly with transactions SE63 and LXE_MASTER, as well as the Proposal Pool. But it is also fully compatible with our other tools, i18n Translation Manager for SAP Fiori and Customizing Delta Translation Manager. All the features that LUDECKE Translation Manager provides for translation of SAP Standard or custom-developed ABAP texts can also be used with the temporary translation objects generated by ITM and CDTM.
In the future, we plan to significantly expand the tool and add new features for scoping and analyzing SAP translation projects, automating translation, and improving translation quality. Thanks to our partnership with text&form, we are now in a position to better serve the SAP translation needs of our customers and offer new features as part of our tools. We are also planning to use LUDECKE Translation Manager on all future SAP translation projects.
Read more on our SAP translation tools…